Thank you to the Calgary Lawn Bowling Club and their volunteers for hosting a great AB BC Test Match on May 31st through to June 2nd!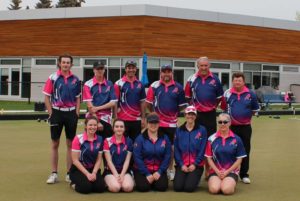 The AB team was made up of Shannon Roden, Jenn MacDonald, Kyla Malcolm, and Alexis Gallacher under the 'senior' direction of Amanda Berg and of Francis Standen, Jon MacDonald, Brad Roden and Andrew Manson under the 'senior' direction of Kevin Childs.
The first day of competition proved toughest for the AB players who had a lot less preparation time than the BC Team that came to compete against them. Singles games were played on the Friday evening and our record was 3 – 7.  On Saturday the teams played pairs and triples and the record was even 6 – 6.  The Sunday competitions of fours and mixed pairs ended up with AB taking 1 game and losing 2.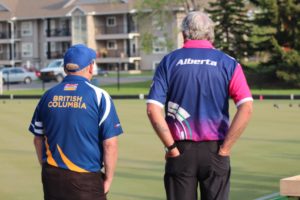 Thank you to AB Coach Derek Dillon for his leadership of the team and for working to set up the tournament along with BC's Coach Dave Mathie.
The third Annual AB BC Test Match will be scheduled for in BC next year.