Athlete Development Committee Terms of Reference
We are currently looking for a few members of our clubs that would like to serve on the Athlete Development Committee. For further information please email the Bowls Alberta office.
Athlete / Player Development camps Summer 2020
Dates for camps will be set and listed below if we get into a stage where we can gather again at clubs.
Development Camps Calgary
Youth Development Camp
Development Camps Edmonton   

Development Camps Southern AB
Alberta Team Development Camp
These camps are all from 6:30 pm to 8:30 pm. and are for open for all AB members. REGISTER today:
Register for Camps
If unable to attend a camp you may arrange a coaching session for your club members or personally with Head Coach, Derek Dillon on a first request first served basis. Email your request to:  coach@BowlsAlberta.com
2020 Athlete Development Squad

Bowls AB, through an application and selection process, will identify players across the province in the Learn and Train to Compete development stages to make up the 2020 Development Team if we do get back to playing this season. Otherwise the applications for 2020 are on file and will be reviewed late next winter.  New application forms will be made available before the end of February.  The AB Head Coach and the Northern and Southern appointed Selectors, Dave Simpson and Roy Riege will announce the team at the Spring Membership meeting.
For details check out the Development Team Selection Policy 2020
Download the Application-and-Declaration-Form
The squad for 2020 is on hold:
When we resume our sport, following the selection of the full development squad players, a team will be selected to represent AB in the 3nd annual AB BC Test Match to be held at the Juan de Fuca Lawn Bowling Club, Victoria, BC, most likely the last week of May 2021.  Coaches and/or a team manager and two senior players will accompany the team.
Athlete Ranking Points System
The Athlete Ranking Points System will be reviewed and updated to more closely align with our LTAD plan and with our new Championship structure and restrictions on participation in events early in 2020.  The last review was in 2017 and a few minor adjustments were made in 2018: BA Athlete Ranking Points System
Athlete Provincial Points Rankings
Will be updated and posted if the list is to be used for player selections.
Learn About LTAD / Player Development
Sport for Life is a movement that began in 2005, to improve the quality of sport and physical activity in Canada. A key feature of Sport for Life is Long-Term Athlete Development (LTAD), a developmental pathway and training guide not only for developing top-rank athletes but also for increasing overall participation in a sport. The vision behind Sport for Life is to reshape how we support sport and train athletes at all levels in Canada – from children to adults, from grassroots sports through to the National level. In realizing this vision, the aim is to keep more Canadians active for life with recreational sport and physical activity, and at the same time help Canadians in all sports win more medals internationally.
Bowls Canada Boulingrin, in partnership with Sport Canada, has developed a bowls specific LTAD framework that lays out the development stages that a player will go through as they learn the sport regardless of the age they begin playing. The LTAD guide called, "Bowls, A Sport for Life" can be found on the Bowls Canada Athlete Development page.

The guide outlines the key factors that influence athlete development and long term quality participation. It includes descriptions of the various stages of learning and charts skills performance indicators for a coach or individual to use and evaluate one's ability, knowledge and readiness to compete competitively.

For further information on LTAD from BCB see the presentation entitled LTAD Overview by BCB.

For further general information on LTAD visit the Canada Sport for Life website.
LTAD Stages and Resources
Learn to Bowl
Laying the Foundation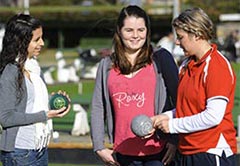 Train to Play
Club Competitor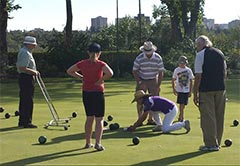 Learn to Compete
Provincial Competitor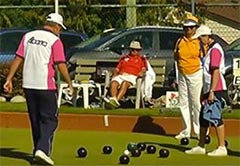 Train to Compete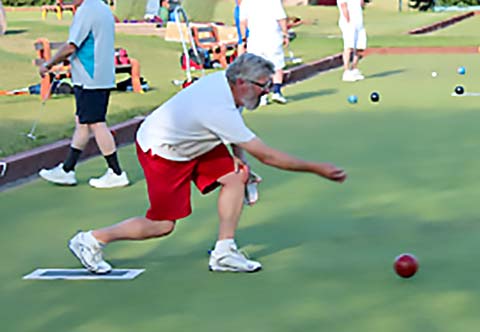 Bowling for Life