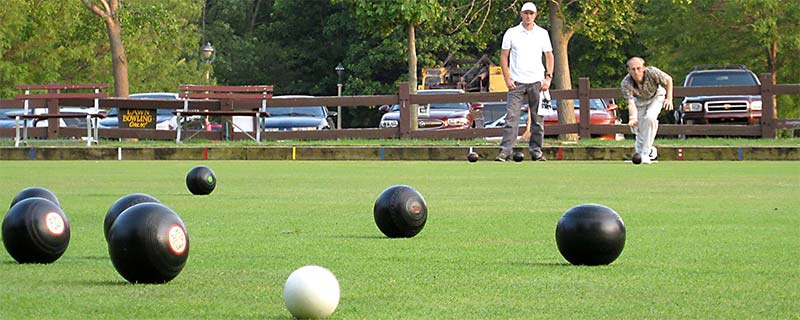 Bowls is a strategic, challenging and fun sport that can be enjoyed by anyone. It is a target sport played on a flat grass surface. It is similar in concept to the Italian game of Bocce or the French game Pétanque with the main distinguishing features being the playing surface, the biased bowl used, and the delivery method of the bowls.
The game is played on a simple premise. Players deliver a set number of bowls, depending on the format of the game, to a pre-rolled target known as the 'jack'. Players/teams take turns bowling with the goal of resting their bowls closer to the jack than any of their opponents' bowls. Once both players/teams have delivered all their bowls and a score is determined, everyone bowls back in the opposite direction. Games vary with a set number of ends to play, varied compositions of teams, and various determined formats.
Bowls is played on a large smooth grass surface called a "green" divided up into lanes called rinks.
Lawn bowls are large, hard resin balls with a bias to them, so that they travel along an elliptical path, rather than going straight. They range in sizes and weights and colors.
Bowls involves offensive and defensive strategy. An added challenge is the Jack or target may be displaced within the confines of the rink by the movement of any bowl.
One of the best parts about the sport is that anyone can play no matter their skill level. It is a low impact game that is extremely accessible and great for any age. The game is played by youth and still competitively played by 90 year-olds!
Local clubs have all the equipment required to get you started. Give it a roll.