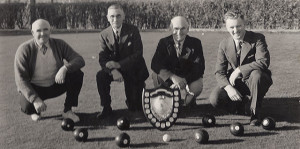 ---
Prior to 1989, lawn bowling in Alberta was divided into two separate associations. The women's association was referred to as the Ladies Lawn Bowling Association (ALLBA) and the men's association was the Alberta Lawn Bowling Association (ALBA). Each association held their own general meetings and were governed by their own set of bylaws.
During 1988, meetings were held to discuss the advantages and disadvantages of forming a joint association. On October 21, 1988 the first meeting of this new association was held and an executive was elected. This executive consisted of the following members:
| | |
| --- | --- |
| President | John Barnes, Edmonton |
| Vice President-Program | G.A. (Sandy) Morrice, Medicine Hat |
| Vice President-Program | Margaret Fettes, Edmonton |
| Secretary | Debbie Neilson, Calgary |
| Treasurer | Jan Wojcik, Calgary |
| Provincial Director | George Ashford, Edmonton |
| Past President | Eleanor Hornland, Calgary |
| Program Coordinator | Nicholas Watkins, Edmonton |
To comply with a directive from the Alberta Sports Council, the province was divided into three divisions:
North Division: Edmonton, Lloydminster, Wainwright
Central Division: Calgary, Didsbury, Red Deer
South Division: Medicine Hat, Lethbridge
This new association was called the "Lawn Bowls Association of Alberta" (LBAA) and the certificate of incorporation was signed on January 20, 1989. The following clubs were the inaugural members of the association:
Bow Valley (Calgary)
Lethbridge
Calgary Lawn
Lloydminster
Commonwealth (Edmonton),
Medicine Hat
Didsbury & District
Red Deer
Highlands (Edmonton)
Royal Canadian Legion (Calgary)
Inglewood (Calgary)
Wainwright
Over the years a few of the clubs have struggled to maintain membership and the clubs in Didsbury, Red Deer, and Wainwright were permanently closed. The Royal Canadian Legion was renamed to the Rotary Park Lawn Bowling Club.
Today 7 of the original clubs are members of the association. Along with them are Stanley Park LBC (Calgary), and Royal LBC (Edmonton)  We also have one new 'winter' club, Edmonton Indoor LBC which rolls on several indoor soccer 'fields'.
In 2018, the Lawn Bowls Association of Alberta (LBAA) changed its name to Bowls Alberta (BA). We now fall in line with our national sport association and other provincial names like Bowls Canada Boulingrin, Bowls BC, Bowls SK and Bowls MB and in line with the world recognized name of our sport which is simply bowls.
Check out the World Bowls site for its' story on the History of our Game.