Eight teams competed in the 2018 Mixed Pairs Championships this year, a small fraction of past years!  But competition was still fierce, the weather was memorable, and no one was around but the players and the umpire and drawmaster when it was all over.  A much different tournament than most in many ways!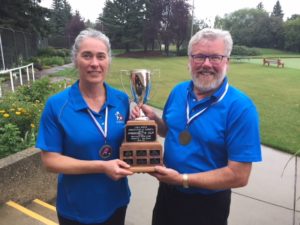 Kieth Wylie, playing with Shannon Roden, took the Gold and hoisted the President's Mixed Pairs Championship trophy.  They will represent AB at the Canadian Mixed Pairs Championships being held the 2nd week of September in Qualicum Beach, BC. This will be Shannon's first experience at a national event!
Two of our veterans, Roger Allen and Julie Ford, took the Silver.
Kevin Dusablon, with his wife Brittany as lead, took the Bronze.  This is their first medal performance in our province and was Brittany's first provincial tournament.