What a weather-varied tournament last weekend in Calgary!  Friday night we were delayed for a short time because of a nearby thunder and lightning storm.  Saturday we played in pouring rain until a delay was called because of near torrential rain fall that the greens couldn't drain fast enough.  We continued playing in lighter rain conditions and finished off the day under some cloud and some sun.  Then on Sunday we baked a bit under the warmth of the sun and very few clouds.
The double round robin tournament between four teams for the women was won by the team of Jan Robinson, Peggy Plathan, Bev Robinson and Patricia Walker.  They played strong all weekend long and went through undefeated!  Alberta is proud to have this team represent us in Regina in August.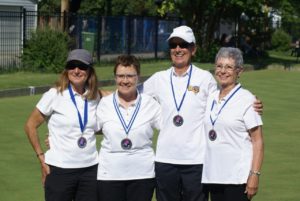 The 8 men's fours teams that were registered played five preliminary random games followed by the 1st to 4th place teams competing in playoffs games. After a terrific and very close championship game the team of Roy Riege, Peter Mok, Paul Maskell and Mike O'Reilly came away with the Gold medal.  Mike will attend his first national championship along with a number of 'veterans'  as this team is off to represent AB this August in Regina.  We expect a great showing from this team!